Heavy Metal Metal aus São Paulo Brasilien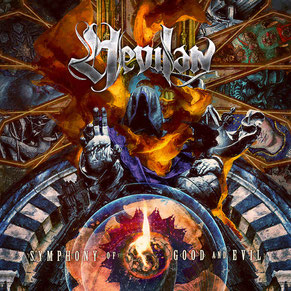 | | |
| --- | --- |
| Hevilan – Symphony of Good and Evil | 19.03.2021 |
| | |
| --- | --- |
| 01. | Dark Paradise |
| 02. | Rebellion of the Saints |
| 03. | Great Battle |
| 04. | Here I Am |
| 05. | Always in My Dreams |
| 06. | Devil Within "Part I Evil Approaches" |
| 07. | Devil Within "Part II Hammer of the Gods" |
| 08. | Waiting For the Right Time |
| 09. | Symphony of Good and Evil "Part I Revelation" |
| 10. | Symphony of Good and Evil "Part II Dark Ages" |
| 11. | Symphony of Good and Evil "Part III Song of Rebellion" |
| 12. | Symphony of Good and Evil "Part IV Epilogue" |
| | |
| --- | --- |
| Vocals: | Alex Pasquale |
| Guitars: | Johnny Moraes |
| Bass: | Biek Yohaitus |
| Drums: | Rafael Dyszy |
Wir freuen uns, einen neuen Künstler im Brutal Records Roster begrüßen zu dürfen. HEVILAN hat einen Vertrag mit dem Label für die weltweite Veröffentlichung des Albums "Symphony of Good and Evil" unterzeichnet.
Heavy Metal vom feinster! Geile Riffs und Solis erstklassiger Gesang, bombastische Chöre lässt jedes Metallerherz höherschlagen. 
Sanctuary und Nevermore  hatten sich 2014 mit den brasilianischen Musikern Johnny Moraes (Gitarre), Thiago Oliveira (Gitarre), Fabio Carito (Bass) und Marcus Dotta (Schlagzeug) als seine Tourband zusammengetan, was letztendlich erfolgreich war Die Zusammenarbeit führte zu Plänen für ein neues Studioalbum. Die Aufnahmen für "Shadow Work", die Fortsetzung von "Praises to the War Machine" aus dem Jahr 2008, begannen im Herbst 2017 im Orra Meu Studio in São Paulo, und Travis Smith begann mit der Erstellung des Kunstwerks nach einem Konzept und Ideen, die zuvor mit Warrel besprochen wurden Im Jahr 2005 beschließt der Gitarrist Johnny Moraes mit einigen Songs, eine Heavy-Metal-Band mit einer schwereren und melodischeren Ausrichtung zusammenzustellen. Auf der Suche nach Musikern, die dieselben Ideale teilen könnten, findet er Biek Yohaitus und Alex Pasqualle (Bass bzw. Gesang).
HEVILAN
https://www.facebook.com/Hevilan
https://twitter.com/hevilanmetal
https://www.instagram.com/hevilan_official


BRUTAL RECORDS
https://www.brutalrecords.com/ (Coming Soon)
https://brutalrecords.bandcamp.com/
https://soundcloud.com/brutalrecords
https://www.instagram.com/brutalrecords.official/ 
https://www.facebook.com/BrutalRecords.USA/
https://twitter.com/BrutalRecordsUS 

Spotify Playlist : https://cutt.ly/YhTXMVV 

Youtube Channel
https://cutt.ly/fynVL7h
Dieses Lied stammt von dem Album "THE END OF TIME" mit Warrel Dane "Nevermore & Sanctuary" und Vitor Rodrigues "Torture Squad" als special guests.