Garagen Rock aus Torino, Italien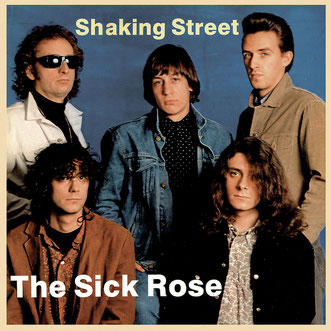 The Sick Rose - Shaking Street
| | |
| --- | --- |
| 01. | Little Girlie Pearl |
| 02. | Like The Other Kids |
| 03. | Shaking Street |
| 04. | She's Got |
| 05. | Raining Teardrops |
| 06. | A Kiss Is Not Enough |
| 07. | Don't Keep Me Out |
| 08. | Little Sister |
| 09. | Up Is Up |
| 10. | Teenage Nighdrive |
| 11. | Shaking Street (alt version) |
| 12. | Yesterdays Numbers |
| | |
| --- | --- |
| Vocals: | Luca Re |
| Guitars: | Diego Mese |
| Guitars: | Jacopo Arrobio |
| Harmonica: | Sergio Chiorino |
| Organ: | Rinaldo Doro |
| Bass Vocals : | Maurizio Campisi |
| Drums: | Dante Garimanno |
Promo Text:
Nach über dreißig Jahren ist für alle Garage-Sound-Liebhaber wieder ein Must-Have-Album im Vinyl-Format erhältlich!
"Das Vinyl, das Sie in der Hand halten, wenn sie es kaufen,  ist ein Stück italienischer Underground-Musikgeschichte und ein Meilenstein im künstlerischen Abenteuer von The Sick Rose, der geilsten Garagenband, die Italien je hatte ... The Sick Rose kommt direkt auf den Punkt, Sieben Original-Songs - leicht entflammbare Tracks wie  "Little Girlie Pearl", "Like The Other Kids", "She's Got, A Kiss Is Not Enough" - und drei großartige Coverversionen, nämlich der Song "Stolen" von "MC5", "Raining Teardrops" des obskuren Australiers  "Barrington Davis" aus den 60er Jahren und "Up Is Up" von den legendären "Real Kids" aus Boston.
"Shaking Street" ist einer der beeindruckende Plattein der Geschichte von Sick Rose  und über dreißig Jahre später genau so gespielt werden muss, wie sie damals war: auf Hochtouren, zum "Vergnügen" Ihrer Nachbarn ! "
Das Vinyl hat ein neues Grafikdesign mit laminiertem Gatefold-Cover und kostenloser CD, einschließlich zwei Bonustracks, die aus derselben Aufnahmesession stammen und aus den Original-Takes remastered wurden: 
Nur 300 Kopien soll es von der Scheibe geben!
Discography:
| | | |
| --- | --- | --- |
| Faces | Electric Eye Records | 1986 |
| The Hot Roses! | Sick Rose Fans Club | 1989 |
| Shaking Street | Electric Eye Records | 1989 |
| Floating | Synergy Records | 1990 |
| Renaissance | Synergy Records | 1992 |
| Blastin' Out | Teen Sound Records | 2005 |
| No Need For Speed | Area Pirata | 2011 |
| Raw & Alive '86 | Psych-Out Records | 2015 |
| Someplace Better | Area Pirata | 2018 |
| Shaking Street | Area Pirata | 2021 |